This article is brought to you in association with Macroart

Agency Spotlight, the latest addition to the Event Industry News site, profiles the top of the pyramid, the design and creativity behind brand activations, experiences, exhibition USPs and the greater live event model.

Sponsored by print specialist Macroart, these pages will profile agencies of all sizes, looking at how and why they started, with what ambition, key projects, relationships with the supply chain and a whole lot more besides.

If your agency has a fitting story to tell, get in touch: Kizzy@eventindustrynews.com 
---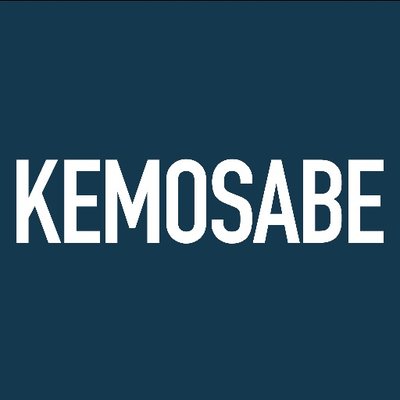 Agency: Kemosabe
Formed: 2015
Annual Events: 11-50
Staff: 11-50 employees
Offices: 3
https://wearekemosabe.com

Mantra:
Never misfire on work. We create an idea that's so tight, it's an 'inch-wide'. An idea so inch-wide, it can penetrate a 'mile deep'. A mile deep through all mediums, remaining true, and generating optimum impact.
Formation:
Founded by Ian Irving (Irv), Rebecca Adair and Phill Clark we were tired of working with people who did not have the same ethical standpoint and wanted an agency on our terms. We're about what's right.
Whether it's for insight, strategy, advertising, branding, live events, or more. Faithful friend – this is the spirit of Kemosabe. We stand for quality, integrity and purpose driven, collaborative work. Trusty scout – with bases in London, Amsterdam and New York, we've got the experience and the key partners to break free from the constraints of a traditional walled agency. Never misfire on work. We create an idea that's so tight, it's an 'inch-wide'. An idea so inch-wide, it can penetrate a 'mile deep'. A mile deep through all mediums, remaining true, and generating optimum impact. We apply rigorous effectiveness across every client need. Only then do we deliver the outcome, because if the strategy is inch wide only then will the experience be compelling enough from the first touchpoint to the last and achieve the required impact on our client's business.
Founders: Ian Irving, Rebecca Adair & Phill Clark
Irv – Recognised as one of the founding leaders of 'Experiential' Marketing, Irv is a strategic and creative thinker. He has 23 years' experience across all disciplines including Experience and Event Marketing, Sponsorship, Amplification, Social Media Strategy, Retail Insights, Influencer Marketing, Experiential and Branded Content, and Omni-Channel Experiences. A published author & multi-award winner, Irv has worked with many of the world's largest brands – Tesco, Topshop, RBS, H&M, B&Q, WHSmith, River Island, Whirlpool, Paddy Power, 47 Brand and Footlocker, Nutristrength and Levi's. Irv has helped each brand to seek out and increase global online and offline communities and utilise insight to increase consumer advocacy, as well as using social media conversations to change purchase behaviours and drive ROI in the live, OOH and digital environments.
Rebecca – is Co-Founder, Managing Partner, and Client Services Director at Kemosabe. She has been instrumental in the exponential growth that we've experienced since beginning in 2016. Rebecca has also been developing the agency's credentials in the social impact space, with Kemosabe now working with U.S. based Thankful Organization and Social Enterprise UK – the UK's biggest network of social enterprises in the UK, strategically aligned with 6 government departments, leading public policy on social enterprise for over 15 years. Rebecca is also spearheading the opening of our new agency stateside that operates exclusively in the 'purpose' environment.
Phill – Phill has been in the creative industry for over 25 years. As Creative Director, his entrepreneurial spirit has led him to set up and manage several award-winning creative agencies and a TV production house over the years. Today, as Founder and Creative Director of Kemosabe, Phill oversees all creative output and strategic direction. In New York, he is spearheading the agency's work with the United Nations as well as opening a purely purpose driven agency that uses the United Nations 17 SDGs as its backbone.
Key services and sectors served:
We're about what's right. Whether it's for insight, strategy, advertising, branding, live events, or more. We are completely sector agnostic, delivering work in tech, automotive, F&B, finance, property, charity, travel, sport and FMCG. 
Case Study: Nippon Airways
All Nippon Airways, Japan's largest 5-Star airline. 17 years on, Kemosabe still run all of their European marketing. Work for ANA is produced in anything up to twelve languages, in all media formats: online, off-line, above-the-line, below-the-line, branding, exhibitions, press, events, PR, social, print, digital, photography, film. Etc. Kemosabe developed and deployed ANA's We Are Japan campaign.
Designing global brand guidelines and positioning, curating all content, and running numerous activations, we ensure guests understand that ANA is Japan, refined hosts through thousands of years of tradition. Only with ANA, Japan's largest 5-Star airline, will you discover a truly authentic experience from the moment you board your plane; our strategy focuses not only on ANA's 5-Star services, but also on Japan's unique destinations. And with the leisure market growing and all eyes looking to Japan for the Rugby 2019 World Cup and 2020 Tokyo Olympics, we make sure ANA are firmly the airline of choice. Kemosabe curate and manage ANA's We Are Japan platform across three different languages.
With our in-house specialist knowledge we produce content on behalf of ANA, flying to Japan to discover new stories and create a hidden gem guide to all there is to EAT, DRINK, SEE, STAY, DO and DISCOVER. Print and digital campaigns for ANA are spread across the entirety of EMEA. And with routes to over 45 domestic locations and direct daily flights to Tokyo from their European hubs – London, Paris, Brussels, Frankfurt, Munich, Dusseldorf, Austria and more – they're non-stop too. Kemosabe also curate, shoot, direct, produce and score films for ANA – whether they're for promotional material, products and services, social media content, CNN's Great Big Stories, the Six Nations Rugby, or more.
Events for ANA range from corporate conventions and trade shows to evenings of Kabuki theatre overlooking the Eiffel Tower. Celebrating ANA's roots in authentic Japanese hospitality, we create experiences that bring guests face-to-face with the nation's true culture.
What the future holds:
Continued growth through the passion for what we do, the relationships we build with our faithful friends will grow across the globe and success will go hand in hand with our growth.
---
This Agency Spotlight is sponsored by Macroart
Macroart challenges the assumptions about a 'typical print company'. With a fair bit of cool kit to turn clients' visions into reality, Macroart's enthusiastic, committed and talented team delivers some of the most complex print projects in live events, retail and interiors.